The Century Tuna Superbods Run holds some significance for me because ten months ago, I found myself submitting a video audition for Superbods 2009:
[youtube=http://www.youtube.com/watch?v=qGBLyVfMuLY&w=400&h=344]
This year the audition process was way more athletic, requiring people to finish their chosen distance at the Superbods Run before going to the onsite go-see. But in a crowd of 11,344 race participants, one can really get lost in the multitude.
And that's why I went with a gimmick at the Superbods Run.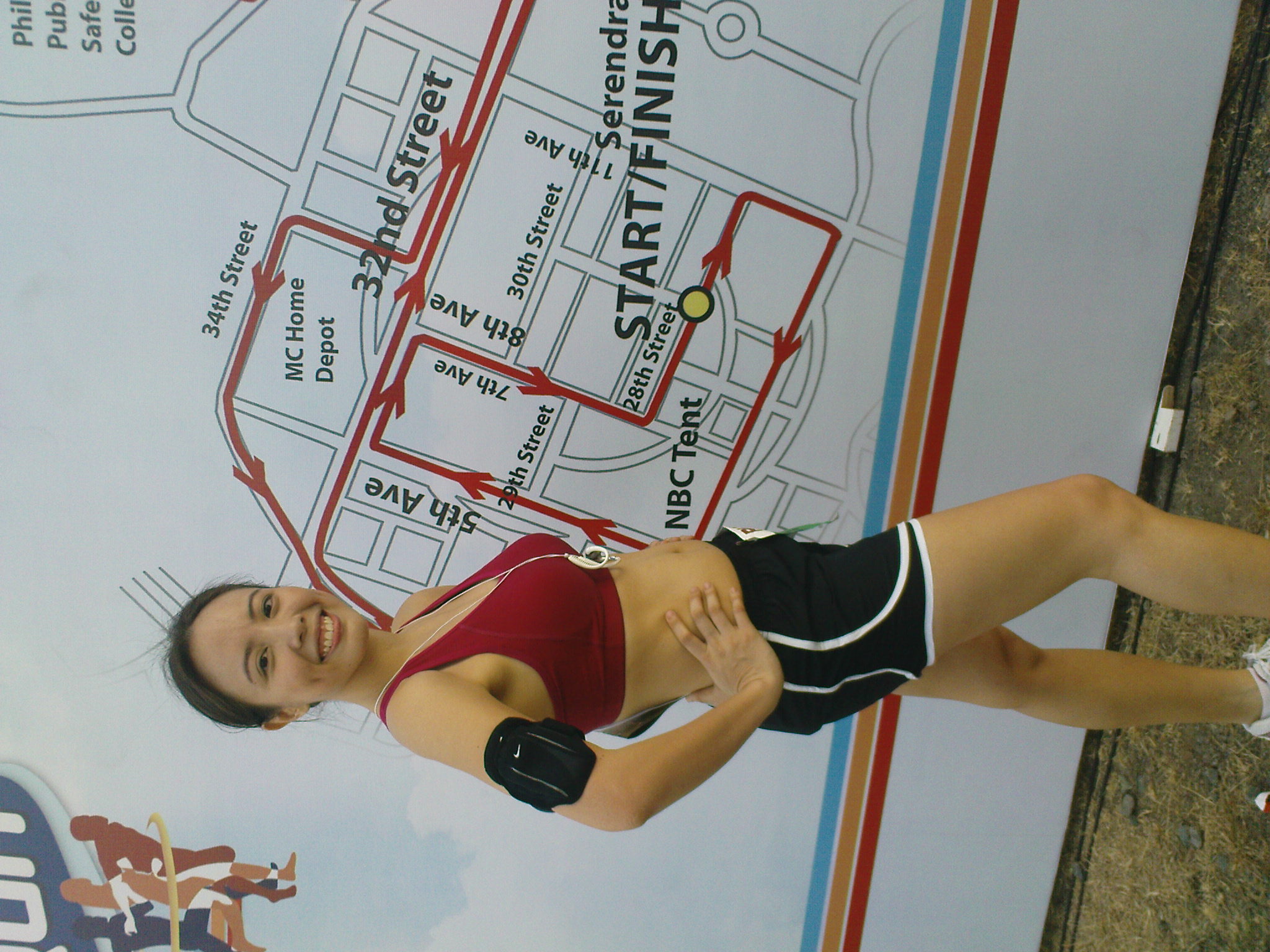 I'm a mowwwdel.
I wasn't the only one who ran with the theme "Less is More": the Bald Runner himself, Sir Jovie Narcise, ran shirtless, beating Derek Ramsay at his own game. BR ran 21K, I ran 10K, and Derek ran 5K. Ü
The Early Bird Gets the Worm?
Because the demand for race kits far exceeded supply, I was at the venue at 4am to get a spare race kit from Mr. F, whose foot is still out of action. I gave it to Julie's friend so he could run in the men's category, at least. Since the 10K wasn't due to start until 5:35am, I hung out with Timmy, Sid, Z, and Carina for a while at the parking lot behind R.O.X. We were content to watch from a distance as Coach Rio and Derek officially opened the Superbods Run, while Tricia Chiongbian and Rovilson Fernandez did hosting duties.
Suddenly, at around 5am, a 30-second countdown started, after which a foghorn sounded. Was that the gun start for the 21K? We weren't sure, since other people who were wearing 21K race singlets were still milling about away from the starting line. Five minutes later, there was another countdown and horn. Was that my gun start? As 5K runners started to gather for their warm-up, we finally came to the conclusion that yes, we had just missed the proverbial boat!
It's Too Late, Baby?
Sid, Timmy, and I broke into a cold-sweat run, elbowing our way through bodies swaying through a warm-up. I hit the start button on my new Garmin (I named him Kiko) and we bolted off. All my plans of making this event an easy, pa-cute run fell by the wayside as it became a mad dash against time.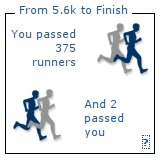 We were eight minutes behind packs of slower runners on the tail end of the 10K. As I zig-and-zagged past these, I kept checking my pace on Kiko. At one point, I hit a whopping 3:28 min/km pace. Was I in a hurry, or what? Sid and Timmy dropped back.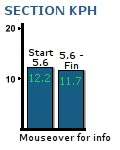 Since I felt physically strong enough, I decided I would try to equal or beat Papa Piolo's 10K time of 47:53. That would require me to run at speeds faster than 5:00 min/km for most of the run, which was hard to do as I found myself slowing down behind walls made of warm bodies. My only respite from the pace I'd imposed on myself were the hydration stations, which stocked beautiful rows of water and Gatorade (mmm!). I didn't even notice the models hired to man the tables.
As I entered the last kilometer stretch, I checked Kiko and was crestfallen to see 47:53 just tick by me. Drat. Foiled again! But there was still time to make this a sub-50 minute run, which I attempted to do. But I just missed my goal by two seconds.

According to the results (which very quickly were released overnight), my official time is 50:01 chip time, and 58:16 gun time. I placed 18th in the women's division, but according to chip times I would have been 11th if I'd started on time. (I might even have beat The Bull Runner Jaymie Pizarro to the finish line if I had. *sniffle*)
It wasn't as bad as it might have been because we had timing chips laced to our shoes. In races timed with chips, a runner is timed from the moment they cross the start mat until the moment their foot touches the finish mat (unless you're a professional runner aiming for the top prize, in which case you'd better be in front when the gun goes off).

However, I did still have to contend with the thousands of people who had finished before me and were lined up to receive their post-race freebies. I gave up on the lines and instead went to look for my friends.
Was It Your First Time?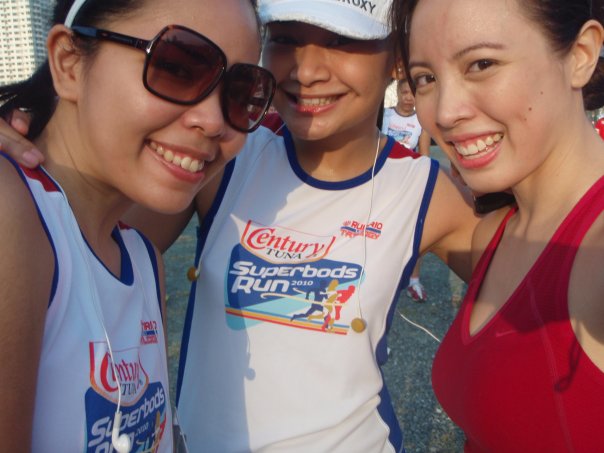 All my 3K ladies, put your hands up!
I've already mentioned before that my girls Jenny and Bianca signed up for the 3K distance, making the Superbods Run their first ever road race. Don't be fooled by the 21K singlets: as Jenny said, they ran "2 plus 1 K!"
I'm so proud of them for completing their 3K. I even want to applaud their environmentally-sound way at the water stations; they would drink their plastic cups dry and neatly dispose of them in the garbage bins. Ü But you know what really made me want to do cartwheels? They told me their ultimate goal is to run 10K by the end of the year. I told them, "If you do manage to enter a 10K race, I'll pay for your registration!"
Race in Review
Route: The incomplete road closure even during the beginning of the race posed risks for motorists and runners alike. As I was heading towards University Parkway, I heard a screech and a crash behind me. I and several runners looked back to see a motorcycle lying on the ground in front of a car.Because of the route's looping course, the different race categories sharing parts of the loops, and few race marshals to point the way, some runners got lost. Thankfully I was following all the 10K singlets ahead of me and thus managed to make it to the halfway point and back again without any detours.

Again, another advantage of the chip is no log jam at the finish line beause you don't have to hand a stub over to an official once you've completed your race.

Hydration: Plentiful water and Gatorade at each of the long white tables made each hydration stop a pleasure. Now if only the models manning the tables actually knew where to position themselves and how to hand water out to the greatest advantage of the runners. I know it was a gimmick to have them there, but I'm all business while racing and I don't let my eyes rove.Also, weren't they supposed to be in bikinis and shorts instead of those boring white uniforms they were wearing? Teeheehee.
Package & Freebies: I didn't bother to collect my freebies, but Bianca and Jenny got theirs towards the end of the program at 9:30am. I was pleasantly surprised to see plenty of freebie bags still in each booth. At least the organizers erred on the side of preparing too many, instead of running out and facing angry, sweaty runners. The Century "supermarket" where products were offered at a buy-one, get-one-free promo was also a nice touch.The onsite go-see was a cattle call from the moment I'd heard about it, and in actuality it was no different from what I'd expected. When we left, there were still people lined up for it.
Coach Rio didn't have the time to run in this race, as he was kept busy dashing to and fro trying to hold the fort. In his thank-you note, he seems very aware of all that went down on race day. I admire him for his willingness to take responsibility, addressing the problems I and other runners encountered.
Last year's Timex Run was an exercise in crowd control that ensured all its 5,000 runners were happy. I think for the Superbods Run many of the logistical problems might have been avoided had there been a cap on how many people were allowed to register. Managing more than 11,000 people, many of them new to running, is no easy feat.
I had a great run at the Century Superbods Run anyway. I give it THREE-AND-A-HALF KIKAY PINKIE FINGERS out of FIVE.
Hopefully based on these experiences, Coach Rio and Finishline will be better prepared for its future races. One coming up very shortly is the Unilab Run United on March 7, which shares the same routes as Century and might also have a similar number of runners. We shall see, but I have high hopes for it.
Oh, one last thing.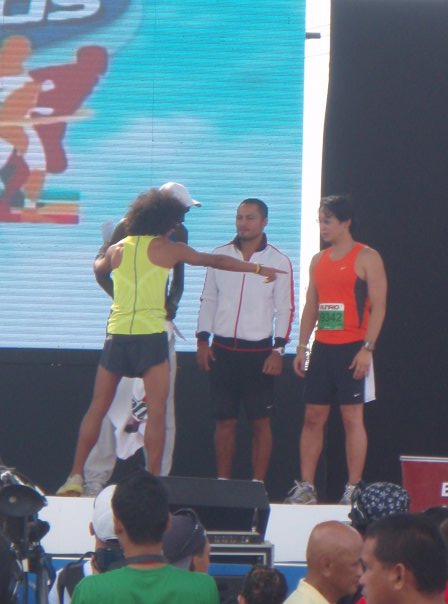 Derek! Not shirtless, sadly.