I claim to be kikay when it comes to what I look like on race day, but I'll be the first to admit that the original Kikay Runner is none other than Ms. Tessa Prieto-Valdes.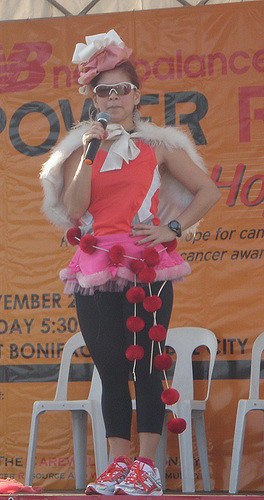 You gotta love her.
My clothing style is functional with less frills, but that doesn't mean I pay any less attention to my appearance.
So, as Kara requested, I'm writing about what I wear on runs, from head to foot. Ü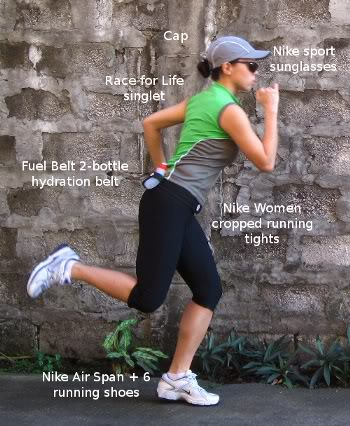 Cap
I have never run a race without wearing a cap. It keeps my hair from falling into my eyes, wicks away sweat from my forehead, and keeps my head protected from the elements whether it be sunshine or rain drops.
I have two caps from Penshoppe that I alternate. They're washable so I toss them into the laundry, just to avoid salt build-up from the sweat. (As Kikay Runner, I try not to stink up my clothes when I run. I bathe before my runs so I smell fresh, and hit the showers as soon as possible after. *wink*)
Nike sport sunglasses
These are a hand-me-down from my mom, who's graduated to Ray-Ban wayfarers. I started wearing these on my runs when I realized my eyelids couldn't quite keep up with the dirt or flying insects that fly into my eyes. Ouch! These glasses are also handy in cutting glare from sunlight, so I can keep my eyes open even while running with the sunrise in front of me.
Race for Life singlet
I bought this singlet before the Race for Life last October (the kit provided only a finisher's shirt). Although it's a bit short for a singlet, its zip-up neckline helps keep me cool, while the zippered pocket in the back allows me to take on my runs vital items like my car key, an ID, and cash.
I kind of consider this singlet my luckiest one because I got a podium finish and broke my 10K PR twice while wearing it.
Fuel Belt hydration belt
I don't take this belt with me during a race itself because I rely on water stations along the way. However, since I bought these last December (Christmas present for myself), I've never had to return to my car for a drink of water in the middle of a training run. I can run longer and farther without taking a break now, which really helps in building up my stamina, mileage, and mental toughness.
Nike Women cropped tights
I bought these tights with my prize gift certificates from Race For Life, and they have been a Godsend. Ample support for upper leg muscles, mesh vents wherever needed to keep me cool, and a zippered back pocket make these the only bottom I wear for races.
Nike Air Span +6
When I realized I needed to buy a running-specific shoe, this was what I ended up with. Funny thing is, now that they've covered more than 100 kilometers, they feel much better than when they were brand-new.
I don't use the Nike Plus functionality that comes with them (because I don't have the chip and the band), so most probably when I buy a new pair I'll go for something more simple.
This is my usual outfit for now. As the running year begins for me and I find other stuff to wear, some of my favorites will probably change.
How about you? What do you usually wear on runs?