I'e reviewed sanitary products before, like tampons. I've also reviewed underwear, like sports bras. But this is the first time on this blog I'm taking a look at underwear designed for a woman's red days.
First, the problem this product is supposed to solve:
Women experience discomfort when using sanitary napkins with wings. It's even more of a hassle when you try to run while using sanitary napkins. This is actually one of the reasons I've shifted to using tampons on active days. However, sanitary napkins are cheaper than tampons, so I still use them on days I don't need to move as much. So when I was sent a Lily of the Valley period panty to review, I was intrigued. Of course, I had to wait until my next period to try it out. Hehe.


Lily of the Valley period panty
It looks very much like an ordinary panty from the outside; it's quite high-waisted as well so it reminds me of control-top underwear, perfect for eliminating "muffin top" when wearing body-hugging dresses and skirts.
Each Lily of the Valley has four features: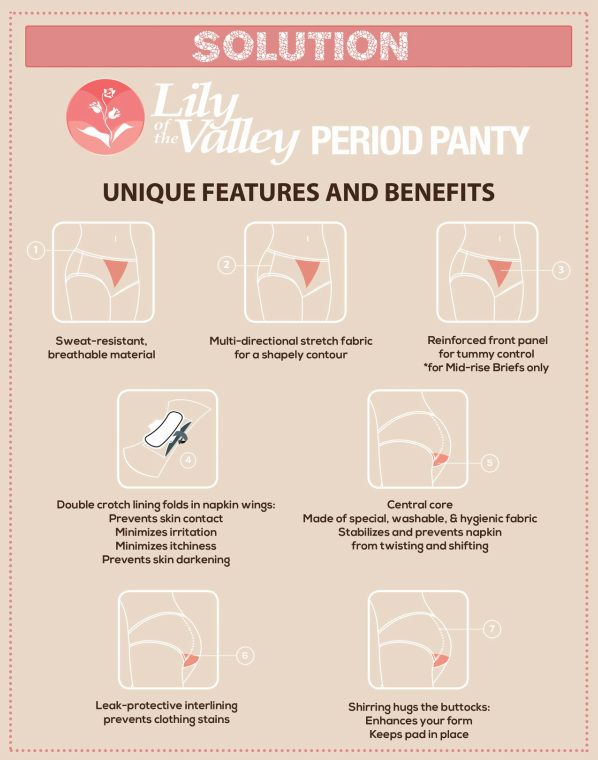 double crotch lining: you can fold the napkin wings around the upper lining, while the lower lining shields your skin from the plastic wings which can cause chafing and irritation. This also helps to prevent darkening of the skin.
anti-leak protection: an anti-leak lining extends from the crotch up to the mid-buttocks prevents "tagos" or overflow onto your clothes.
center core: there's a stiffer fabric in the upper lining that prevents bunching of the napkin and raises the pad for better absorption.
shirring on the back panel: this brings the panty closer to the body for a better fit, keeps the pad securely in place, and has a nice side effect of shaping the butt. :D
The panty comes in sizes so you can get a good fit. I went with a Medium according to my hip and waist measurement, but I should probably have sized up a bit (yes, I have big hips and big thighs!). The panty is comfortable and my napkin did not budge even as I walked about all day, but I found myself wishing for a bit more room around the leg hole, or perhaps in the future they can come up with a Lily that doesn't have elastic around the crotch and leg area.
Of course, you'll need more than one LOV panty for the duration of your period. Is it really worth it to buy a panty specific for just one week in a month? Actually, some women wear their LOV panty even if they aren't on their period. As I've said before it's got a nice control top function that eliminates bulges under clothing.
Lily of the Valley will also soon carry more colors for their panty as well as an activewear and sleepwear line. You can check out their official website at mylilyofthevalley.com.
Did you like this post? Share it on your social networks!