*This is a sponsored post for EastWest Bank. View my disclosure policy.
If you're like me, you probably bought yourself something sports-related for Christmas. Maybe it's a new bike (like what I did), or maybe it's some brand-spanking-new clothing — all worth every centavo, even if it means cutting into your budget for gifts for other people. (I exaggerate, of course.)
But what if you could do all that shopping and get P2,000 worth of Nike apparel for free? Just in time to refresh your wardrobe for the new year!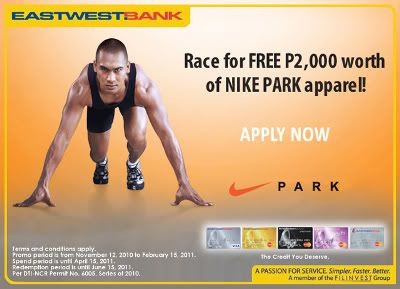 EastWest Bank offers new credit card applicants P2,000 worth of Nike apparel for free upon their first P5,000 spent shopping anywhere.
To avail this promo, you need to apply for an EastWest credit card within the promo period from November 12, 2010 to February 15, 2011. You won't even need to go to an EastWest Bank branch to apply; you can apply for an EastWest Bank credit card online. How easy is that? And the P5,000 worth of carded purchases can be accumulated until April 15, 2011, so you can space out your expenses, too.
I actually wish I'd known about this promo sooner, before I started shopping for presents for my family and friends. Anyway, it's a new year and there are many New Year sales and promos up until the end of the month. I'm thinking about applying for the credit card now so that my expenses can rack me up a nice new set of running gear. Hmm…